Transition to New Leadership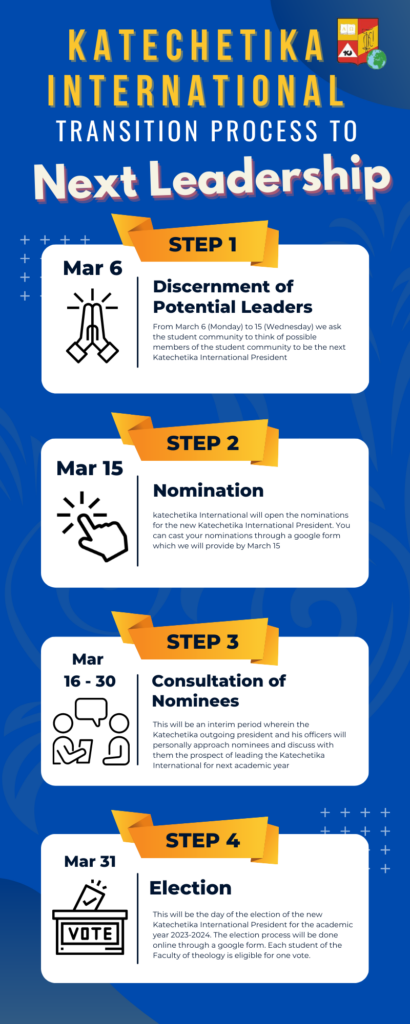 Dear international students of the faculty of Theology and Religious studies,
The time has come for us to finally think of a new president to lead the Katechetika International. Electing a new president of Katechetika International at an earlier stage of the second semester ensures a smooth transition for the next academic year, with the outgoing president and his officers orienting and ushering the new president and his/her would-be core team members.
To orient you of the process of transition, kindly see the infographics attached in this announcement. There are four key stages: discernment, nomination, consultation, and election. I invite you to be discerning and to notice potential leaders among us who can sustain and advance the mission and purpose of our student body organization.
To help you think of potential leaders, I personally advice that you think of quallities and skills that should be present in him/her, such as availability, capacity for animating the group, prudence, dedication and love for the faculty and its members, openness, etc.
On March 15, we shall open the nominations for the new Katechetika International president. A minimum of three and a maximum of five nominees shall be considered for election. Although there is no strict rule that the nominees are in the 2-year research Master's (the elected being in his/her second year during his/her presidency), experience in the past has taught us that those who are within this group are in the best capacity to lead Katechetika Intl. This, however, is not an established rule. So students from the bachelor's and doctorate are eligible too.
Between March 16 and March 30, we shall be personally approaching the nominees. We shall ask them of their willingness and their personal thoughts of the prospect of being the next president.
On March 31 is the election time. Voting will be opened from 9 AM to 12 Midnight of that day. We follow the rule of simple majority for the elections. The new president shall be announced right after the tally of votes have been finalized.
It has been a joy serving the Katechetika International for this academic year. I look forward to the next president and his/her team as they bring the Kataechetika International to new frontiers in the coming academic year.
Sincerely,
Niel John Capidos and the Katechetika International Core Team